A walk off the beaten path led this entrepreneur to her sweet destiny
Fond memories make a lasting impression
Gail Ambrosius discovered her love of chocolate as a child, making fancy chocolates with her mom. When relatives would visit, she would take the treats around on trays and everyone would ooh and ahh over them. 
Her appreciation deepened when she traveled to Paris in high school. After getting separated from her student group for the day, she meandered the streets, visiting little chocolate shops and making the most of her three years studying French. She observed people flowing in and out of the shops, savoring treats and purchasing gifts for loved ones. It occurred to her that she wanted to help people feel that joy.

Best-laid plans don't go as planned
Gail returned home with the dream of opening her own chocolate shop. Life took her on a small detour instead. She moved to Madison, married, had a child, divorced, and was encouraged to get a stable, well-paying job. She took people's advice, went to school for cartography and worked a state job for 10 years when she was laid off unexpectedly. Unemployed and a single mother, she needed to figure out what to do next.
This was her chance to follow her heart and take the leap into entrepreneurship. Gail claims that once people follow their hearts, doors will open. After learning the craft and absorbing as much as she could from shops in France, she opened Gail Ambrosius Chocolatier in 2004. One of her favorite aspects of the shop was being able to see all of the work she had accomplished over the course of the day, like wrapping 3,000 pieces of caramel. Gail Ambrosius Chocolatier has expanded organically since then, outgrowing her shop twice. The last move was just across the street, which Gail and her crew did mostly using little red wagons.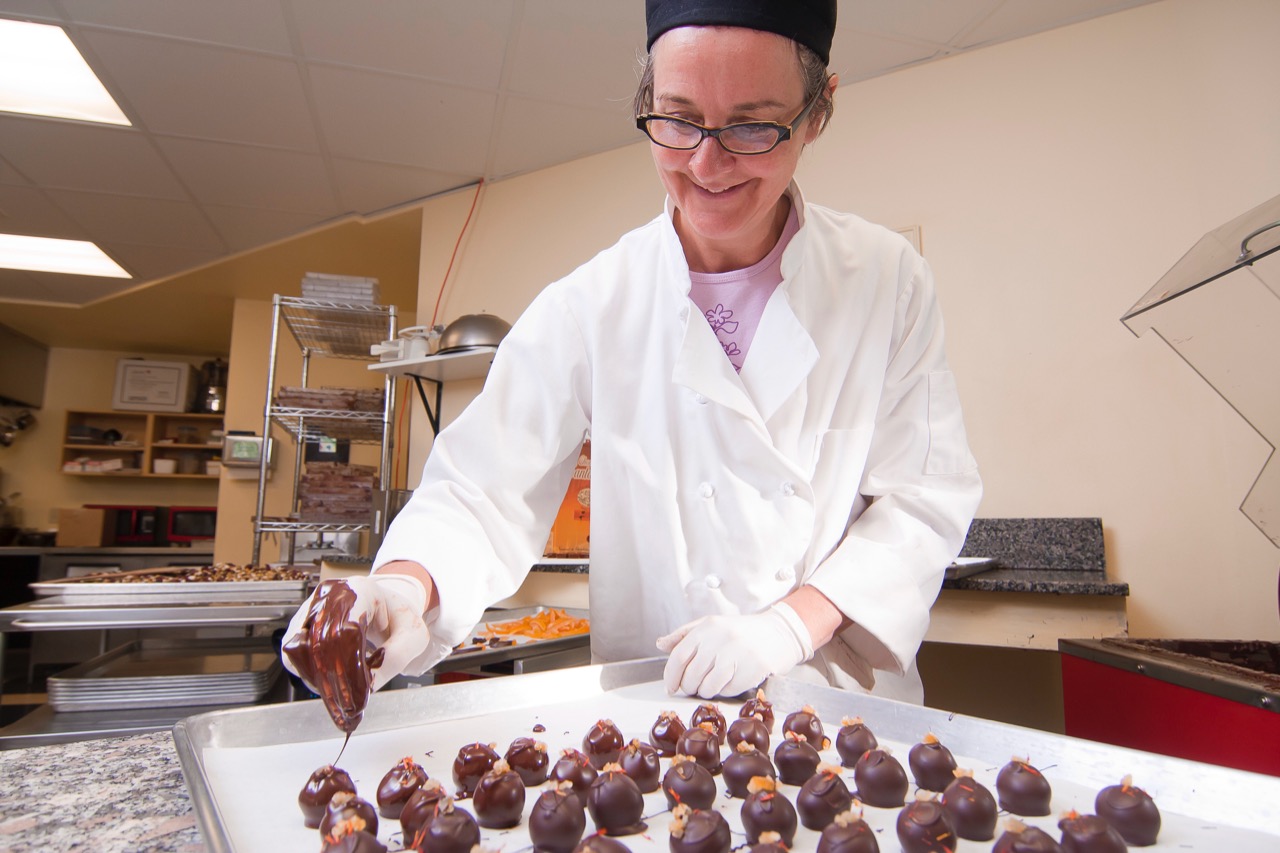 Building a community to be proud of
Gail has watched the industry grow as well, and is thrilled there are so many chocolatiers in the Madison area, proclaiming that there's room for everyone and that only elevates the experience. While styles and trends have changed over the years, Gail prefers to keep her chocolate "old-fashioned." She has specialized in dark chocolate from day one and primarily uses it to this day, though she uses some milk chocolate and white chocolate. Continuing to make chocolate in a more traditional way distinguishes her from other shops in the area, including hand-dipping each truffle. She delights in the beauty of each round nugget of chocolate.
Respect for people, the environment, and the ingredients is an enormous part of Gail Ambrosius Chocolatier. Gail emphasizes the importance of good relationships with everyone and everything that touches the business, including ethically sourcing ingredients. She has traveled to Colombia, Peru, Costa Rica, and beyond, exploring the world of cacao on her hunt to find the best ingredients. Customers enjoy coming into the shop and asking where she visited. She also loves hearing stories from customers who have been with her through big moments in their lives, from first dates to weddings, to new generations of chocolate lovers.
That sense of community is another important part to Gail. The chocolatier enjoys donating to important causes, including the Goodman Community Center. The community gives love right back to Gail Ambrosius Chocolatier, consistently awarding it a Best of Madison gold medal.
The future of chocolate is bright
As Gail Ambrosius looks ahead for herself and her business, she sees a lot of opportunities. That's partly due to the fact that her son and daughter-in-law are in the family business. Gail's son Isaac watched her build the business from the first truffle when he was a young boy. He and his wife met while working in the shop. And for the past eight years, he has been the shop's general manager. Gail doesn't mind staying small and growing organically but she's excited to retire someday and see where her son and daughter-in-law will take the business.
Like many local businesses, Gail Ambrosius Chocolatier felt the effects of the pandemic but managed to survive and thrive thanks to online ordering and pickup, with shipped orders increasing by 80 percent. Gail acknowledges the community for their overwhelming support this past year. Now, doors to the shop have reopened and Gail is thrilled to welcome guests in again.
If you find yourself in the Atwood neighborhood, be sure to stop by and ask Gail to share some of her favorite travels. In the meantime, you can also browse her website and have chocolates delivered straight to you or someone you love.