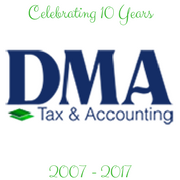 The DMA Tax & Accounting team works with numbers everyday, but when our staff recently realized we are officially celebrating 10 years as DMA this month, it made us sit back and think about what it means to be able to serve our clients for that amount of time.
DMA began more than 30 years ago as the former Goetz and Associates. The accounting firm had many long-time clients, and a stellar reputation in the community. Dale Miller, current majority owner of DMA, joined the firm, eventually purchased it, and a few years later renamed it. Blair Butters is a part owner, and took a similar path with DMA. Both Dale and Blair have years of CPA and tax preparation experience, but believe success in business is based on providing superior levels of customer service. DMA was awarded a "Best of Monona" in 2016 for standing behind those beliefs. "Running a business is as much about having a great supporting staff as it is about customers, " Dale says. "Interacting with clients and seeing their businesses grow or change makes me excited about coming to work everyday."
"Great customers and great employees are most important to the success of a business. Treat both well, and you will have long-term loyalty from both," Blair says.
The Small Business Administration's survey of business survival shows about 2/3 of new or renamed businesses survive the first 2 years, and about half, survive more than five. Given those statistics, DMA is thriving beyond its own expectations, which both Dale and Blair acknowledge were set by previous owner Fred Goetz. "When we took over the business, we wanted to continue the great success of Fred Goetz, while also maintaining the highest levels of customer service," Dale says. Blair adds, saying, "Clients are the reason for our business. Answering their questions or helping them solve a problem is the most satisfying part."     
So, what could the next 10 years mean for DMA? The men have a few goals. "During the next 10 years, we hope to have our newest service for on-site bookkeeping fully staffed and functioning with a solid client base," Dale says. "I am also looking forward to having new staff members up-to-speed and offering the high level of service expected at DMA." Blair also wants clients to have easier access to tax and financial statement information through portals, and says, "We want to help our clients navigate through the tax and accounting changes that are bound to happen during the next ten years."
DMA is using the strength of the past to push toward more future success. If you would like to experience what DMA has to offer your business, contact them today.